PartyinKeyWest.com - Your Online Key West Party Guide
ULTIMATE JET SKI TOUR OF KEY WEST - $99 or $125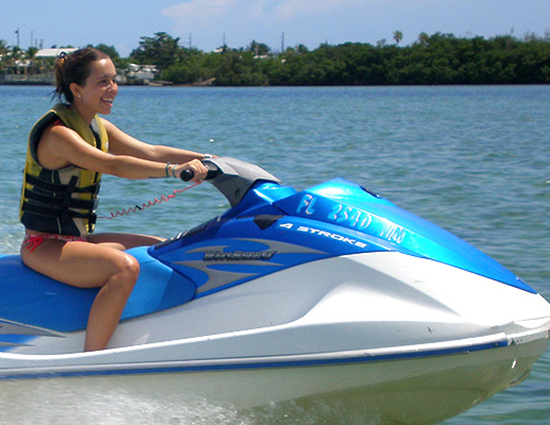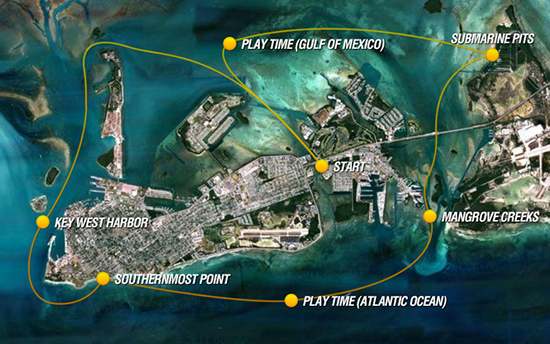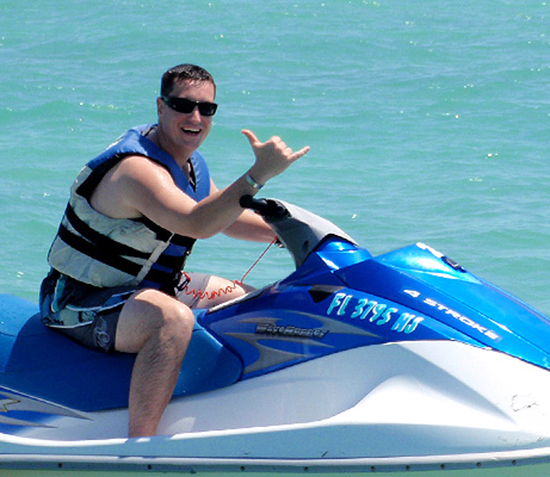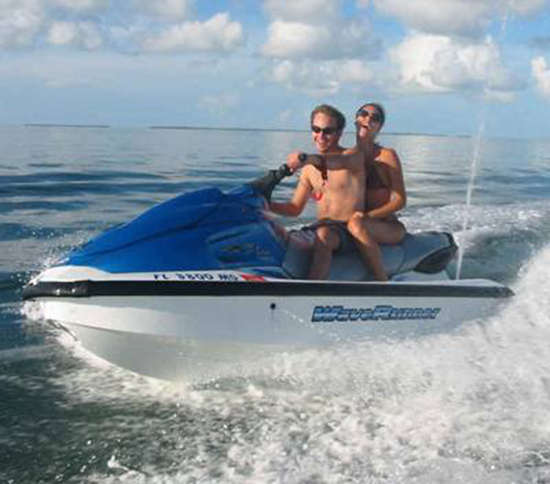 5130 US Highway 1 Hurricane Hole Marina Key West, FL 33040
P: (305)294-6790
Email: keywestwatertours@gmail.com
KEY WEST Jetski Tour - (305)294-6790
With Key West Water Tours
$99 for 10 am Tour
$125 for 12:30 pm & 3:30pm Tours
$125 for 6pm Sunset Tour *sunset times change per season
Ultimate Jet Ski Tour of Key West Overview The Ultimate Jet Ski Tour of Key West is a thrilling 26 mile Jet Ski Tour around the island of Key West! Follow a local guide through the Atlantic Ocean and into the Gulf of Mexico and the submarine pits going as fast or as slow as you want! Stop at a sand bar, take a swim and learn a little local history from a different perspective. There is plenty of time to play! Keep your eyes out for dolphins, rays, sea turtles and many other beautiful species!
During your jet ski tour, you will take in breathtaking views and watch Florida Keys marine life frolicking in the Caribbean waters. While cruising around the island, your guide will make five stops at various points of interest, such as The Southernmost Point, Historic Key West Bight, and Sunset Key.
VISIT SITE: http://keywestwatertours.com
ADDITIONAL INFORMATION:
• Schedule Departure time: 10.30am, 12:30pm, 3:30pm andSunset *times vary on seasons
• Duration: 2 hours (approx.)
• Check-in time: 30 minutes prior to departure time Departure point:
INCLUDES:
•Includes Jetski Rental
•26 Mile Jet Ski Tour of Key West
•FREE BEER at the end of the tour!
EXCLUDES:
•Gratuity (optional)
WHAT TO BRING:
•What To Bring
•Bathing suit
•Sunscreen
•Sunglasses
•Towel
NOTES:
You must bring a valid photo ID and credit/debit card with you to check-in
Guest cannot participate if pregnant, under the influence of drugs or alcohol, or have any existing medical conditions that put them or others at risk
Advance Purchase Recommended
Capacity: 16 jet skis
IMPORANT INFO OR QUESTIONS/FAQ:
Where is the departure point for this tour? Hurricane Hole Marina, Key West, FL.
When do I need to arrive for check-in? Please arrive for check-in 30 minutes before the tour begins. The exact tour start time may be based on your chosen options and will be noted on the confirmation you receive after booking.
How long is the activity? Guests will enjoy a 90 - 120 minute action-packed jet ski tour of Key West. Feel free to arrive early at our four star resort location and relax on Key West's finest private beach.
What are the age limits to drive a Jet Ski? To drive your own ski (single) you must be at least 18 years old. 18 - 24 year olds can drive a ski on their own but must take a boater safety test (this requires that you arrive 1 hour prior to departure to take the safety test) unless you already have a valid boaters license (must be shown at check-in). 14 - 17 year olds can drive the ski if accompanied by a qualified driver. 25 years older and above do not require a boaters' license or safety test. You must bring a valid photo ID and credit/debit card with you to check-in.
(305)294-6790 to BOOK Now